We offer a flexible weekly program with attendance
choices of 3 – 5 days a week.
| | |
| --- | --- |
| Full Day | 9:00 ~ 15:00 |
| Full Day with Extension Care | 9:00 ~ 17:00 |
We can accept the extension care till 18:00. (Extra Charge)

Our Acorn and Sprout program has a thematic curriculum focusing on topics that facilitate an interest in learning.
Through a curriculum which is based on daily projects, the children are allowed to explore their interests, reward their curiosity, and further their own development.
Children in the Acorn and Sprout program are constantly exploring a variety of materials, textures, colors, sounds, and sensory experiences. The goal of the program is to provide the children with the opportunity to make new discoveries every day.

In the Maple class the children are introduced to more thematic learning and projects can develop to last for a week or often even an entire theme. In the Maple program we begin to introduce the children to the country based studies which form the core of the curriculum for our Olive and Oak program. By pairing child interest based daily studies with exciting thematic projects, our Maple children are allowed to develop a greater understanding of each month's theme. The Maple program is supplemented by exciting lessons in music, sports, and gardening. The goal of the Maple program is to allow the children to develop a love for learning through more in depth explorations.

Our Olive and Oak program focuses entirely on international thematic discovery. The Oaks are engaged in child-led explorations of a new country each month. During each theme the children are allowed to follow their interests in a wide range of topics including creative studies, dance, music, science, geography, and cooking. In addition to this, the children's learning is supported by additional programs such as curated art gallery trips and ongoing farming experiences. The goal of the Olive and Oak program is for the children is to become confident problem solvers who will carry their love of learning with them wherever they go in life.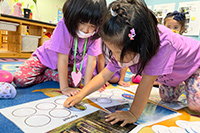 The RST Dual School (After School & Saturday School) program provides an immersive schooling environment which allows children to learn and work toward speaking natural English. By providing a rewarding, exciting, and enriching environment that encourages children to come many days per week we offer an opportunity at a true bi-lingual education. Children regularly join our programs after finishing their morning kindergartens and through this dual-school approach receive a true international education.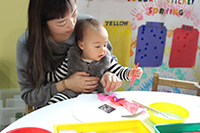 Our Pre-Preschool program is designed to both prepare children for the fun and exciting world of preschool and make that first separation much easier.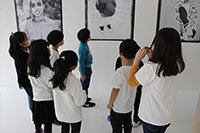 The mission of the RST Graduate's Club is to create a space for our graduates to continue being a part of the community they created with their peers at RST. We would like to offer as many opportunities for our graduates to be comfortable expressing themselves and showing the natural personalities they developed growing up at RST. We believe there is no better way to do this then by interacting with the friends and teachers they grew up with.
We hope our graduates grow into a diverse and thriving community where they continue to organize events and learning opportunities even outside of the class. The club serves as a starting point for our graduates to feel motivated to create their own projects together, stay involved in the RST community, and even mentor our younger graduates. Our goal is for this to continue not only through elementary school, but for the rest of their lives


As a sister school of The Reggio School of Tokyo, Kids On Air offers after school programs for children in elementary schools. As such, KOA is influenced by the same Reggio Emilia approach that marks the educational style of RST.
After RST, children go on to not only international schools but also to public and private Japanese elementary schools. There are as many paths beyond RST as there are children. Whatever path they choose to take, RST graduates should have a place where they can continue to grow as world citizens. That was the thinking behind the founding of Kids On Air in Tomigaya, Shibuya, Tokyo.
At KOA, teaching is conducted entirely in English. Children from Japanese schools and international schools learn about the world through thematic projects to become better world citizens.
Saturday School at KOA offers a homestay-style learning environment that the regular weekday programs cannot.